Scivation Xtend Original BCAA
Ideal For Strength and Endurance Athletes
2:1:1 BCAA ratio of Leucine to Isoleucine to Valine
7 grams of BCAAs Per 13g serving
Zero Calories & Zero Carbs
Sugar free Mouth Watering Flavors
2.5 g of Glutamine, 1 g Citrulline Malate & 1.1 g Electrolyte Blend
Enriched with Vitamin B6
Aids Muscle growth & recovery
Why do you need Scivation Xtend Original BCAA
Scivation Xtend Original BCAA is a high-quality formula that supports you before, during or after your training. In addition to 7g of the essential BCAAs per serving, 2500mg of glutamine and 1140mg of a valuable electrolyte mixture are also included. The essential branched-chain amino acids cannot be produced by the body itself and therefore, must be taken in with food or with food supplements. Glutamine is particularly recommended during regeneration phases during intensive training sessions and the electrolytes support the muscle cells' ability to contract. The added vitamin B6 rounds off the supplement optimally by contributing to a normal energy metabolism and supporting normal functioning of the nervous and immune system.
How to use Scivation Xtend Bcaa Intra Workout Catalyst ?
Mix 1 scoop of Xtend BCAA amounting to 13g in 240 to 300 ml of water. You can take up to two servings a day, preferably before, during or after your workout.
Disclaimer
The specified recommended daily consumption amount must not be exceeded. Do not use the dietary supplement as a substitute for a balanced and varied diet. Keep out of reach of children.
Other Ingredients in Scivation Xtend Original BCAA: Citric acid, sucralose, artificial flavors, soy lecithin (as an emulsifier), acesulfame potassium (ace-k), FD&C blue lake # 1, FD&C yellow # 5.
Allergen Warning – Contains soy products (soy lecithin, as an emulsifier)
The Ideology of Xtend has been to put out the basics "Faster recovery", which indeed is the key to Better results. The Body won't grow, nor enhance, nor conquer without aiming in for recovery between sets, workouts, or cross fit training. To achieve and fill this gap for the athlete Scivation has worked hard to achieve the accomplished supplements. XTEND has been perfecting recovery for athletes for over 10 years now. The supplements do more than helping, it also replenishes nutrients lost in sweat. In goes the science, innovation & clinically approved/studied ingredients to manufacture the industry leading recovery supplements on earth, this is why they are World's #1 BCAA Brand.
Authorized dealer of Scivation Xtend Original BCAA in India: Body Fuel ( bodyfuelindia.com )
Authorized Importers of Scivation in India –
Paradise Nutrition Inc. – Paradise Nutrition Inc. is an import & distribution company est. in 2002. Its goal is to deliver the world's best manufactured Nutritional Supplements, sports, and fitness accessories to the Indian market. Paradise Nutrition has also launched its range of health products, it doesn't compromise with the quality of the products. Paradise Nutrition distributes the World's best brands that meet the highest possible Quality Standards directly from the manufacturers and does not deal with any third party manufactured brand. Paradise Nutrition focuses on delivering products of quality at extremely competitive and value for money prices.
Manufacturer: Scivation Inc., 1448 Industry Drive, Burlington NC 27215
Country of Origin: USA
What are BCAAs (Branched-Chain Amino Acids) ?
Branched Chain Amino Acids (BCAAs), are those amino acids that are very significant for our muscles, they are named so because of the chemical structure that joins them together which is a nonlinear carbon atom configuration.
These three amino acids which name leucine, isoleucine and valine, are found in foods like red meat and milk.
Leucine: Leucine plays a significant job in muscle protein synthesis, Leucine helps in healing wounds and injuries and helps in balancing glucose since it produces energy.
Isoleucine: Isoleucine adds to the biochemical procedure that generates energy, it instigates glucose into the cells and also helps in reducing the effects of stress.
Valine: Valine is utilized in muscle building programs, and assists protein metabolism. Valine helps build muscle and in repairing tissue damage from liver and gallbladder diseases.
When should I take BCAA (Branched-Chain Amino Acids) or Scivation Xtend Original BCAA?
BCAAs can be consumed at any time of the day as it is quickly absorbed by the body and taken into the bloodstream. However, users take it during or before workouts for quick muscle recovery as that is the time when they need these amino acids the most.
The powder form of BCAA can also be mixed with the meals if the person is wishing to consume along with their diet.
Where can I buy genuine Scivation Xtend Original BCAA ?
Body Fuel sells 100% genuine Scivation Xtend Original BCAA and is the ideal purchase option. We at bodyfuelindia.com believe that it is our responsibility to make sure that our customer gets 100% genuine and authentic product. All the products at bodyfuelindia.com are sourced only from the official importers and we are certified for distribution by them. Customer satisfaction being our main goal, we are always up for resolving your queries and keeping you posted with the best offers possible.
Whenever you order from us, you will always receive the product with the original importer sticker and its hologram along with its GST bill showcasing batch no. along with expiry date as well. Check out our How to Verify page to know more about the details of the Brand authorized importers we procure from and their contact no., email id's and website on which verification can be done wherever available.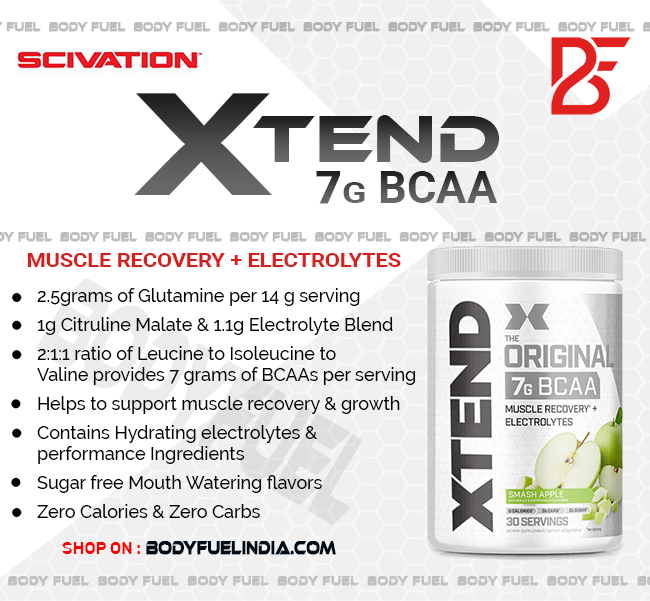 GTIN
181030000281, 181030000212, 812135021658