Myprotein Impact Whey Protein
Protein Percentage- 80%
Has 20 grams protein per 25 grams serving
1.8 gram fat, Carbohydrates 1.8 grams and Sugar 1.7
3.6 grams of glutamine & 4.5 grams of BCAAs
Ideal for building & repairing tissue
Highest Biological Value of any protein
Why use Myprotein Impact Whey Protein?
Myprotein Impact Whey Protein provides your body with high-quality protein, which contributes to the growth and development of muscle mass. It also has 3.6 grams of glutamine & all the essential amino acids, including 4.5 grams of BCAAs (Branched Chain Amino Acids) — these naturally occur in protein which helps to build & repair new muscle. With just 7.1 grams fat, Carbohydrates 7.9 grams and Sugar 3.8 & at just 103 calories per serving, Impact Whey Protein is perfect for your fitness goals.
How to use Myprotein Impact Whey Protein ?
Mix 1 serving of Myprotein Impact Whey with water or milk, in a glass/shaker. Shaken well to make a thick & lump-free drink. It can also be added to breakfast cereal/oatmeal to make a protein rich breakfast/snack.
Disclaimer
Ingredients: Whey Protein Concentrate WPC (Milk) [Contains Emulsifiers; Sunflower Lecithin, Soya Lecithin] (98%), Flavouring, Colour (Beetroot Red), Sweetener (Sucralose).
About Myprotein-
Myprotein is on of the leading sports nutrition brand, delivering variety of quality products including protein powder, vitamins & minerals. Founded in 2004, Myprotein is now Europe's top and based out of the Manchester offices also operate in over 70 countries through a diverse & dedicated team of staff, athletes & active influencers.  Working to inspire people of all ages & genders to believe in their fitness potential.
Authorized dealer of Myprotein in India : Body Fuel ( bodyfuelindia.com )
Authorized Importers of Myprotein in India –
MSM Retail Pvt. Ltd. – Is an authorized importer for My Protein in India. My Protein is the worlds leading online sports nutrition brand. Deals with all types of Health Supplements/Nutraceutical items along with Sports/Protein Accessories and clothing.
Authorized Distributor of Myprotein in India –
Uniglobal Distributors Pvt. Ltd.: An authorized distributor of Myprotein in India, based out of Delhi / Mumbai. Shop authentic & 100% genuine Myprotein products distributed by Uniglobal distributors from Body Fuel at great prices.
Country of Origin: UK
Whey is the liquid part of milk that gets leftover during the cheese-making process, protein is then separated from the whey and isolated in powder form. Whey Protein is instantly absorbing as it consists of various amino acids that are quickly absorbed by the body which helps in a quick recovery. These amino acids help muscles from breaking down post-workout and in building strength. This chain of amino acids is used much more widely by the body than other kinds of protein.
Why do you need whey protein?
Helps in quick recovery post-workout, building muscles and building strength
Helps in weight loss
Helps in completing daily protein intake
There are several other nutrients, peptides, and antioxidants in whey protein which help in maintaining low blood pressure and good immunity
Where can I buy Original Myprotein Impact Whey Protein?
You can buy genuine Myprotein Impact Whey Protein from bodyfuelindia.com. We at bodyfuelindia.com believe that it is our responsibility to make sure that our customer gets 100% genuine and authentic product. All the products at bodyfuelindia.com are sourced only from the official importers and we are certified for distribution by them. Customer satisfaction being our main goal, we are always up for resolving your queries and keeping you posted with the best offers possible.
Whenever you order from us, you will always receive the product with the original importer sticker and its hologram along with its GST bill showcasing batch no. along with expiry date as well. Check out our How to Verify page to know more about the details of the Brand authorized importers we procure from and their contact no., email id's and website on which verification can be done wherever available.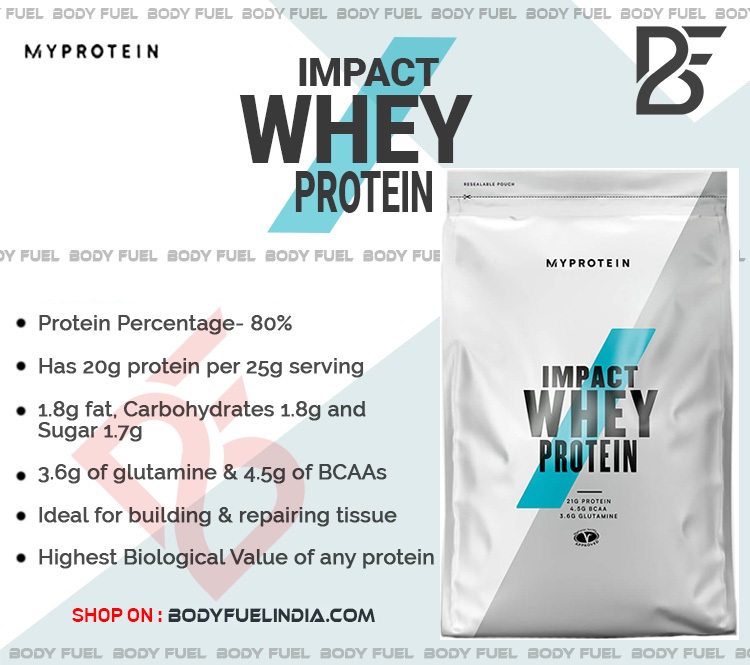 GTIN
5056281100101, 5056185745217