ON Essential Amino Energy
Green Tea Extract 50 mg, Green Coffee Bean Extract 10mg
5 g Amino Blend, 2 g Carbs per 9 g serving
BCAA Ratio 2:1:1, 2 gram BCAA per serving
Caffeine-infused "anytime energy" ready-to-mix powder
Help boost your energy and keep your focus and drive on point
Energy blend with approx 100 mg of caffeine
Low calories and sugar
Aid in muscle recovery
Why do you need ON Essential Amino Energy?
Mental focus doesn't allow you to make the best out of the day, the unique composition in ON essential amino energy drink helps in providing you the mental focus you need. A perfect start for those looking towards a healthier lifestyle, amidst their hectic schedules, e.g. business personnel, students, etc. Moreover, Energy blend with approx. 100mg of caffeine coming from green tea and/or green coffee extracts to supply you with a boost of energy to help you get through the day or a prolonged workout. This unique formula is perfect for any time of the day such as helping you get energized and focused in the morning, helping you stay focused and productive in the afternoon or keeping your energy levels and focus in the gym.
How to use ON Essential Amino Energy?
Mix two scoops of Essential Amino Energy by optimum nutrition 20-30 mins before training in 10-12 oz of cold water.
Post Workout: At least post-workout after the pre-workout dose, take 4 scoops after training.
Do not exceed 10 scoops per day.
Ingredients: Amino Blend (Micronized Taurine, Micronized L-Glutamine, Micronized L-Arginine, Micronized L-Leucine, CarnoSyn Beta-Alanine, Micronized Citrulline, Micronized L-Isoleucine, Micronized L-Valine, Micronized L-Tyrosine, Micronized L-Histidine, Micronized L-Lysine, Micronized L-Phenylalanine, Micronized L-Threonine, Micronized L-Methionine), Malic Acid, Natural & Artificial Flavors, Tartaric Acid, Citric Acid, Silicon Dioxide, Calcium Silicate, Energy Blend (Caffeine, Green Tea Extract, Green Coffee Extract), Sucralose, Gum Blend (Cellulose Gum, Xanthan Gum, Carrageenan), Lecithin, FD&C Blue #2, FD&C Red #40, Inulin.
Disclaimer
DO NOT EXCEED MORE THAN 6 SCOOPS of ON Essential Amino Energy within any 4 hours. A person should start with 2 scoops to assess tolerance and then gradually increase serving size. Do not exceed 10 scoops per day. Do not combine with alcohol. Consume as part of a healthy diet, and drink at least 100 oz of water per day. Exercise may increase your need for additional fluid intake WARNING: Consult your physician before using this product
Allergen Info: Contains SOY (Lecithin)
A Giant in the market from almost 30 years ON created Gold Standard 100% Whey, the world's best-selling whey protein. They have made the slow digestive protein product with Gold Standard 100% Casein. ON also has produced the anytime energy range, which is ruled by Essential Amino Energy. The procurement professionals carefully select the most premium raw materials because there's no compromise to quality.
Authorized dealer/distributor of Optimum Nutrition in India : Body Fuel ( bodyfuelindia.com )
Authorized Importers of Optimum Nutrition –
Bright Commodities: Bright Performance Nutrition is a leading importer of nutritional and health-related products and supplements. It's the authorised importer for Optimum Nutrition and Bio-Engineered Supplements and Nutrition products in India across all channels. Bright Performance Nutrition is appointed as an authorised importer for Ultimate Nutrition, MUTANT, BSN, ON and SCITEC Nutrition products in India.
Manufacturer of ON Essential Amino Energy –
Optimum Nutrition, 3500 Lacey Road, Suite 1200, Downers Grove, IL 60515.
Country of Origin: USA
What are EAAs?
The human body consists of 20 amino acids which help in protein synthesis. They help in building thousands of proteins for the requirement and better functioning of the body throughout life. The human body can make just 11 of these amino acids which are known as 'non-essential amino acids. This implies that by some way or another, we must get the other nine 'essential' amino acids (EAAs) from our diet.
Protein is part of each cell in the body and is essential for the body's functioning. It makes and uses tissues such a muscle, skin, and in creating antibodies and insulin. Moreover, each protein contains from 50 to 2000 amino acids that are chained in different sequences.
Why do you need EAAs?
Essential Amino Acids have numerous benefits for the body and helps in improving muscle growth and function, to improve athletic performance, and for several other health benefits. doctors also use these worldwide to treat deficiencies.
Where can I buy genuine Optimum Nutrition Essential Amino Energy  ?
You can buy genuine Optimum Nutrition ON Essential Amino Energy from bodyfuelindia.com. We at bodyfuelindia.com believe that it is our responsibility to surely provide our customers with 100% genuine and authentic products, so that you can sit back and relax about the petty issues. At bodyfuelindia.com, we source only from the official importers and we are certified for distribution by them. Customer satisfaction certainly being our main goal, we are always up for resolving your queries and keeping you posted with the best offers possible.
Whenever you order from us, you will always receive the product with the authorized importer sticker and a GST bill which showcases the batch no. and expiry date as well because in Genuine we Trust. Another key point, check out our How to Verify page to know more about the details of all Brand authorized importers we procure from and their contact no., email id's and website on which verification can be done wherever available. We have put it up all together so that you have no where else to go but here.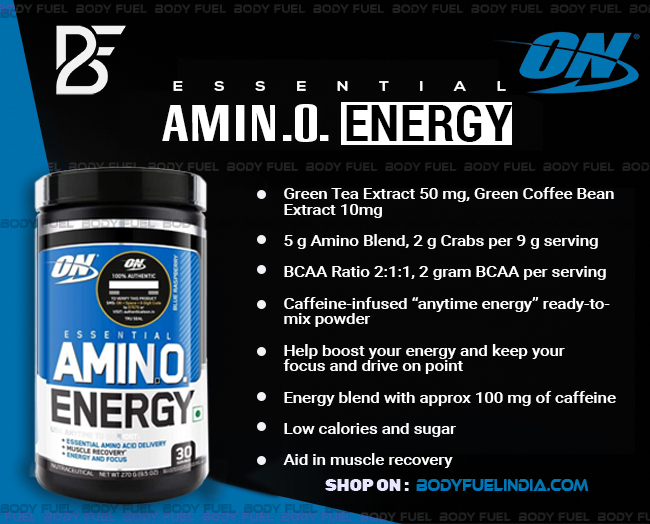 GTIN
748927026672, 748927059397