MusclePharm Combat 100% Whey Protein
Protein Percentage – 75.7%
25 grams protein per 33 grams protein  per serving
Fat 1.5 grams, Carbohydrates 2 grams & 120 Calories
Informed-Choice Trusted by sport.
Ultra premium 100% whey protein
Amazing taste with low fat
Blend of Fast-digesting whey protein isolate & concentrate
Banned Substance Tested
Gluten free as well as No Artificial Dyes
Why use Musclepharm Combat 100% Whey Protein?
Musclepharm Combat 100% Whey is a less carbohydrate, high-protein supplement with very low fat and sodium that delivers quick to digest protein sources with an aim to build and maintain lean muscle mass.  Musclepharm Combat 100% Whey contains two of the fastest digesting, efficient, and clean protein sources – Whey Protein Isolate and Whey protein Concentrate. Whey protein has the highest bioavailability among complete proteins and also has the quickest absorption rate among all proteins. Over the top Combat 100% Whey is low in sodium with only 65mg in each serving. This can reduce the risk of excess water retention. Furthermore, it ensures that the muscle you put on is the muscle that you want.
How to use MusclePharm Combat 100% Whey ?
Mix 1 scoop of MusclePharm Combat 100% Whey Protein in 200-250ml of cold water. Also, vary the amount of water as per desired consistency and taste.
Ingredients: Whey Protein (Whey Protein Concentrate, Whey Protein Isolate), Natural and Artificial Flavors, Cellulose, Guar Gum, Xanthan Gum, Sucralose, Acesulfame Potassium, as well as Soy Lecithin.
Disclaimer – Keep away from young children. Also, do not exceed the recommended dose.
MusclePharm is a United States Colorado-based health supplement company. It undoubtedly has a great following among bodybuilders, but is probably best known for their line of "combat" supplements like Combat Whey and their Combat Crunch protein bars. Their mission is to develop & bring to market the most scientifically advanced, safest nutritional as well as sports supplementation products possible. The purpose of every MusclePharm supplement is to surely enhance athletic strength & overall performance all without using banned substances.
Authorized dealer/distributor of MusclePharm in India : Body Fuel ( bodyfuelindia.com )
Authorized Importer of MusclePharm in India –
Shri Balaji Overseas – Shri Balaji Overseas is one of the top, authorized and licensed importer of health & bodybuilding supplement brands in India. They are a subsidary of Global Impex co., Shri Balaji Overseas is authorized to distribute genuine products of top brands such as  Dymatize, Muscletech, Ultimate Nutrition, Ronnie Coleman, Universal Nutrition, Kaged Muscle, MusclePharm, BPI Sports, RSP Nutrition, Cobra Labs, Now Foods, Gaspari Nutrition, Max Muscle, Inner Armour, Matrix Nutrition & Twinlab.
Manufacturer of MUSCLEPHARM:
MusclePharm, 4721 Ironton St, Building A. Denver CO 80239 Country of Origin: USA

Nutrablend Foods: 3805 Walden Ave, Lancaster, NY 14086, United States

Armada Nutrition: 4637 Port Royal Rd, Spring Hill, TN 37174, United States

Reliance Vitamin: 3775 Park Avenue, Unit #1 Edison, NJ 08820, USA
Whey is the liquid part of milk that gets leftover during the cheese-making process. Afterwards protein is separated from the whey and isolated in powder form. Whey Protein is instantly absorbing as it consists of various amino acids that are quickly absorbed by the body which helps in a quick recovery. These amino acids help muscles from breaking down post-workout and in building strength. The body uses this chain of amino acids much more widely than other kinds of protein.
Why do you need whey protein?
Helps in quick recovery post-workout, building muscles and building strength
Helps in weight loss
Also helps in completing daily protein intake
There are several other nutrients, peptides, and antioxidants in whey protein which help in maintaining low blood pressure as well as good immunity
Where can I buy genuine MusclePharm Combat 100% Whey Protein ?
You can buy original MusclePharm Combat 100% Whey Protein from bodyfuelindia.com. We at bodyfuelindia.com believe that it is our responsibility to make sure that our customer gets 100% genuine and authentic product. Moreover, at bodyfuelindia.com, we source all the products only from the official importers and we are certified for distribution by them. Customer satisfaction certainly being our main goal, we are always up for resolving your queries and keeping you posted with the best offers possible.
Whenever you order from us, you will always receive the product with the original importer sticker and its hologram along with its GST bill showcasing batch no. along with expiry date as well. Check out our How to Verify page to know more about the details of the Brand authorized importers we procure from and their contact no., email id's and website on which verification can be done wherever available.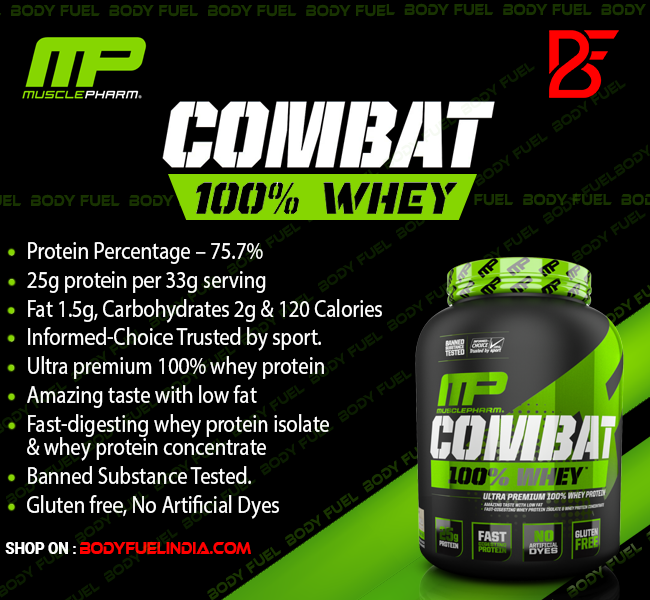 GTIN
019962715426, 19962717024